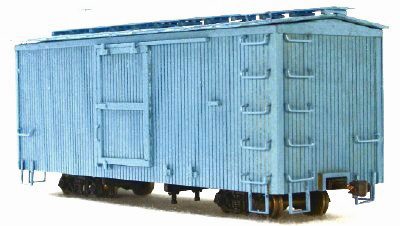 Prototype narrow gauge railroad cars have a more hunkered down look than the ones offered by Bachmann.
On30IMA (http://www.on30ima.com/
offers a small line of craftsman kits to build great looking shortened rolling stock kits to the On30 modelers at an affordable price.
They offer a box car, stock car, flat car, reefer and passenger coach. When I said "small line" truly what narrow gauge line would need more than these? Unless you also have a logging or mining operation, most short lines didn't run to many cars behind those small narrow gauge locomotives.
The kits are supplied with laser cut frames, floors, sides and roof with detail parts from Grandt Line or Tichy. The kits are sold for approximately $22 - $25 depending on the style and configuration desired. Trucks are sold separately so the modeler can choose the style that fits their layout. The kits are laser cut and not intended for beginners. On30IMA suggests you read through the online instructions to see if you feel you are up to the challenge of these kits.
The kits look great, I have them on my wish list when I get further along on my track work. The cost is very reasonable especially when you consider I spent $20 recently on a cardboard cut out kit from
Model Tech Studios
.
Bachmann On30 boxcars retail for $51 (discounted to $31) but include trucks and couplers. Notice the coupler height on the Bachmann box car compared to the OnIMA cars lower coupler height.